Information Centre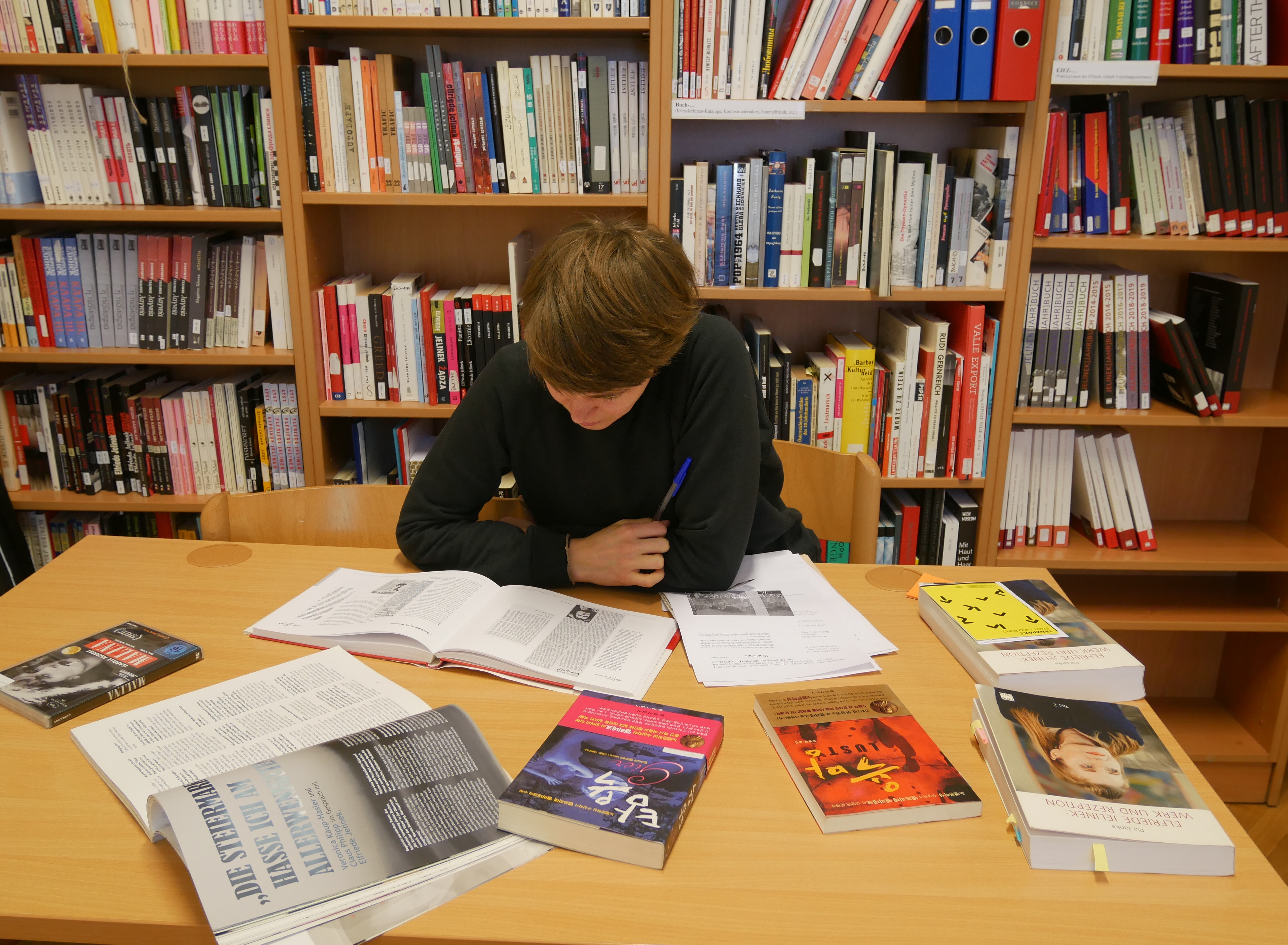 One central responsibility of the Joint Research Platform is its information and communication centre. This centre is based on the continually compiled documentation of the author, her work and its reception conducted by the Elfriede Jelinek Research Centre and its archive.
This information and communication centre functions as a central source for information and a service point for everyone who wishes to gather information about the author´s work, its reception and contexts. On the basis of reference books (the continual documentation of Jelinek´s work and reception, which comprises of the registering of all the performances, translations and the entire secondary literature) and the Elfriede Jelinek Research Centre archive, the team offers counsel and support by providing material, information, documents and contacts.
Who can contact the information centre?
The information and communication centre supports interested people from around the globe and all kinds of fields. Scholars, artists, university and high school students, teachers, translators and journalists can request information for their individual questions and projects.
The team can help with getting started on the literature and the analyses of the works, can assist you in the search for materials and can inform you about current secondary literature. Cultural institutions like theatres, opera houses, literature associations or cultural centres, who present Jelinek´s texts or plan events related to Jelinek, and journalists, who are preparing articles about the author, can receive guidance in the form of informative material and proposals for networking.
Furthermore, the information and communication centre of the Joint Research Platform supports international and interdisciplinary networking and, in order to promote communication within the sciences and the arts, is happy to facilitate contact with experts who are working on similar topics.
Which material can be researched in the Jelinek archive?
Aside from seeking counsel, it is possible to do research directly at the archive, to get access to the archive items as well as watch or listen to audio-visual material. In the archive, numerous materials on Elfriede Jelinek´s work, its reception and contexts, which no other archive has, have been systematically collected and documented since 2004. Since then, the collection has grown significantly and the total collection amounts to 17,000 items.
Print material
Reprints of Jelinek´s work (poems, short prose, novels, theatre plays, libretti, essays, typescripts of audio plays, screenplays, translations etc.)
Articles and reviews (on novels, theatre plays, audio plays, essays, screenplays, translations, libretti and artistic adaptions)
Programmes
Interviews and discussions
Sheet music
Posters
Picture material and photos
Selected scientific secondary literature
Audio and video material
Audio plays
Films
Documentation of stage productions
TV-reports, TV-portraits, broadcasts and interviews
All the materials can be searched for on the digital catalogue UNIDAM. You can find a manual here - help for users.
For answering questions and giving information, we are available via email/phone (+43127725504), via our contact form or in person in our office.